Together with the
picture from my previous post
, I stumbled upon this. A picture of Inay & Itay (Mom & Dad) when my son celebrated his 6th birthday in
Tagaytay City
.
47 years ago, Inay & Itay had their honeymoon in
Taal Vista Lodge
. We even thought of surprising them with another honeymoon treat for their anniversary. Unfortunately, Itay passed away exactly a year ago today.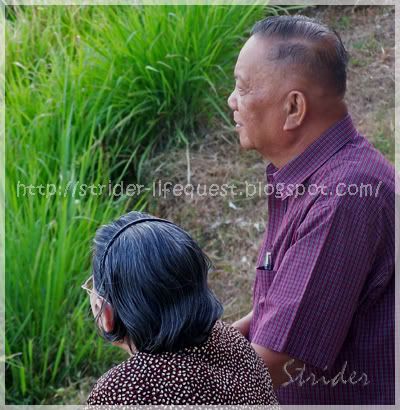 We struggled over the loss, most especially Inay. It took her several months before she got back to her regular community work for our church... which was only understandable of course. Imagine, after their retirement, they have practically spent everyday together for the last 20 years. Tell me about sharing a lifetime together.
What's wonderful about their relationship was the way they have grown to know and understand each other. They can communicate without uttering a word. Still at times, they have misunderstandings...but nothing that love couldn't forgive.
Now that Itay is gone, we can only look back to those shared memories...and what's most memorable about his death anniversary is that it will always happen on my birthday. lol!