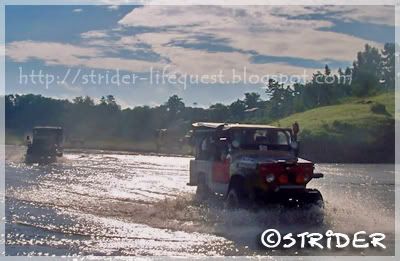 Enroute to the drop-off point going to Mt. Pinatubo, the 4x4 jeeps tread across the lahar at full speed. Water splashed as the jeeps crossed the river one by one. It was one roller coaster ride.
Imagining how many times the drivers of these 4x4 have navigated through this course, it made the ride reassuring. A first time driver would surely run this course with greater caution. For these drivers, beyond the thrills and excitement of each adventure, every successful trip only boosts their confidence to ride the tide.
Afterwards, when the group discussed about the experience, one colleague pointed out a very good insight he had. When the jeeps ran out of road, it went straight through the rivers and treaded the circumstances. Just like in business, at times situation happen when the usual solutions will no longer work. It would call for innovations and courage to create the road to success.