Up to the pass, at the foot of Mt. Pinatubo, the group of 16 men and a lady started their trek up the mountain. Supplied with water, sandwiches and some chocolates, they enthusiastically lined up to follow the trail. They were led by a team leader, aided by the local tour guide. He paced his way at different levels overseeing the rest of the group.
At the start, the group was all energy. Everybody was jolly walking in big strides. You can hear a burst of jokes erupting followed by a thunder of laughter. Until the first casualty came just a few kilometers of trek. A group member had suffered from cramps. The word was passed and the line went on a halt. Immediately the team leader was there and comforted the suffering member.
More jokes were thrown the group teasing the suffering member, as the designated first aid giver attended to his aching leg. Some of the team were considering to carry him up. But after a few minutes of rest and leg massage. He was back on his feet.
Moving on, they continued the climb. Stopping only to catch breath and to regroup. As the team leader prods them on, motivating all to give their best. A shout and chant of "Lets Get it On!" recharges the team as they rushed towards the peak.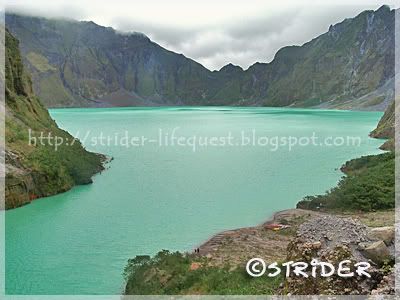 After hours of trekking and boulder hopping, feet drenched in sulfur water, one by one, the team reached the peak and saw the beauty of Mt. Pinatubo's crater. Shouting as they ran up the last remaining steps, as if a second wind has sailed, everyone has finished the course. When all were accounted, the leader gave a smile of content. Happy for all for achieving a common goal.