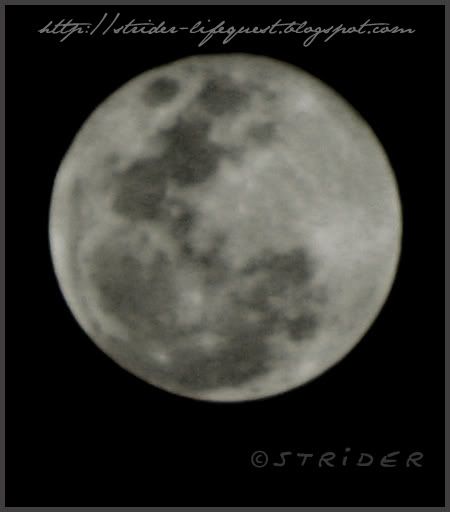 Last night was the Full Moon. You can consider it as the first full moon for 2009 and for the Chinese,it is the last full moon before their new year on the 26th.
I do not know if there is any relation with the moon assuming its fullness, but last Saturday when we brought our 4 month old son for his scheduled shots to his pediatrician, the doctor received numerous calls of babies having diarrhea. That prompted her to change my son's vaccination schedule and gave him a booster shot against rotavirus instead.
Then yesterday morning, our household helper fell ill and slept almost the whole day. Then on the same evening, I had some stomach upset. Coincidence? Most probably.
Studies have failed to substantiate any relationship of illness, lunacy or birthrates to full moons. But one thing is certain, our days and nights go around in a pattern. A cycle that can be pieced together to spell out LIFE. The beauty here comes from the choice of pieces that we pick. Although there can be no turning back,it can always be a full life well lived.
Have a Great Day!!!
weekend-snapshot